Jaime Loh
Driver's License Requirements
Driver's licenses which permit driving of automobiles in Japan are as follows.
Japanese Driver's License
Driver's license of each domestic Public Safety Commission publication.
Foreign driver's licenses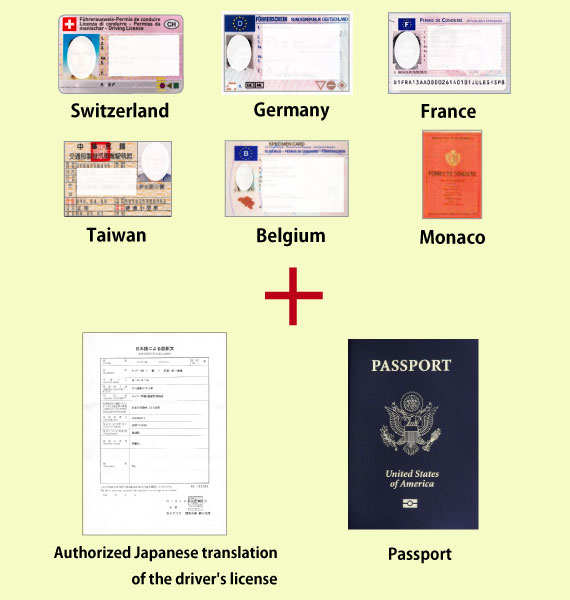 Foreign driver's license of a target country and the local (five countries and Taiwan of the Swiss Confederation, the Federal Republic of Germany, the French Republic, the Kingdom of Belgium, the Principality of Monaco) publication
* The simultaneous presentation of a Japanese translated sentence and the passport is necessary.
* The Japanese translated need to be published based on application on person by embassy, consulate of each country in Japan or JAF
* Taiwan need translated sentence by JAF or East Asia-related association of Formosa.
* Germany need translated sentence by JAF or German Automobile Federation (ADAC).
* Terms of validity of driving in Japan is within the period of foreign driver's license and a year date from land to Japan( confirmation by a seal of landing date to Japan of passport)
International driving permit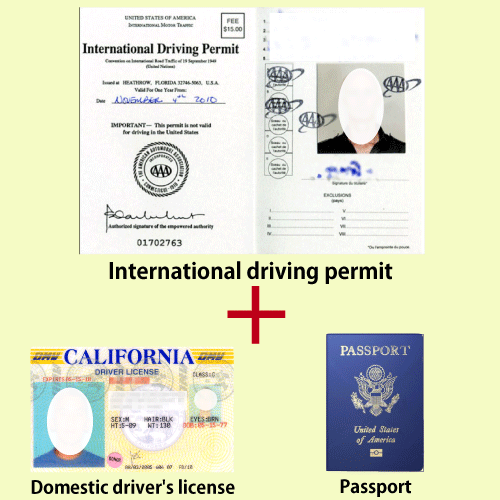 In Geneva Convention (1949) contracting parties, it is an international driver's license of the publication (except Japan)
* The simultaneous presentation of the passport is necessary.
* The driving in the international driver's license acquired at Paris Convention (1926), Washington Convention (1943), Vienna Convention (1968) member nation is not accepted in Japan.
* expiration of international driver's license is within a year from publication(confirmation necessary ) and expiration of driver's license of Japan is within a year date from landing to Japan (confirmation by a seal of landing date to Japan of passport)
* But date of re-entry can't be the date of landing(expiration reckon in Japan) when one recorded by Japanese Basic Resident Register enters again within a period less than three month * The effectiveness to let you drive in Japan is effective (you must confirm an issue date) for one year from an issue date. It is confirmed by an entry stamp, and indicates an entry date to Japan (from a year in passport)
However, the person who leave Japan within under three months; re-input country Basic Resident Register afterwards operate qualification in Japan (it is not necessary considered to be the starting date).
If the documents like the contractor are not prepared, all one cannot run.
When there is documents deficiency, we cannot loan by any reason.
In that case, please be careful enough because there is the case that a cancellation rate according to agreement produces.
List of parties to the Geneva Conventions
Europe State
United Kingdom
Asia
Philippines
Greece
India
Norway
Thailand
Denmark
Bangladesh
Sweden
Malaysia
Netherlands
Singapore
France
Sri Lanka
Italy
Cambodia
Russian Federation
Laos
Serbia
Korea
Montenegro
Brunei Darussalam
Kingdom of Spain
Middle East
Turkey
Finland
Israel
Portugal
Syria
Austria
Cyprus
Belgium
Jordan
Poland
Lebanon
Ireland
United Arab Emirates
Hungary
Africa State
South Africa
Romania
Central African Republic
Iceland
Egypt
Bulgaria
Ghana
Malta
Algeria
Albania
Morocco
Luxembourg
Botswana
Monaco
Democratic Republic of the congo
San Marino
Congo
Vatican
Benin
Kyrgyzstan
Cote d'Ivoire
Georgia
Lesotho
Czech Republic
Madagascar
Slovakia
Malawi
Slovenia
Mali
Republic of Lithuania
Niger
Republic of Croatia
Rwanda
Principality of Liechtenstein
Senegal
Estonia
Sierra Leone
America
United State
Togo
Canada
Tunisia
Peru
Uganda
Cuba
Zimbabwe
Ecuador
Namibia
Argentina
Burkina Faso
Chile
Nigeria
Paraguay
administrative district
Hong Kong
Barbados
Macau
Dominican Republic
French Overseas Territories
Guatemala
Aruba
Haiti
Curacao
Trinidad and Tobago
Saint Martin
Venezuela
Cayman Islands
Jamaica
Isle of Man
Oceania
New Zealand
Guernsey
Fiji
Jersey
Australia
Gibraltar
Papua New Guinea
Territories of the United States
Updated: September 17, 2021